Hunter's Safety Website
This website provides information on the California Fish and Wildlife hunter safety course being taught by Henry Karwan and Patrick Ryan and related topics.
Hunter Safety class information
We will present information regarding what is expected of the internet students and what areas that need to be addressed in the students studies for the objectives that are California specific. As we build the issues discovered on the instructor blog, we will update any other trends that need to be addressed. It has been our experience that the internet students tend to have lower test scores than the regular full day class. We recommend that the student get a California hunters handbook and review the questions at the back of each section before they sign up for the internet follow up course. We also recommend that the student does not wait too long before signing up for the internet follow up course.
We offer the 4 hour follow-up class to the online course on the 3rd Thursday of each month. The course is held from 4:30-9:30 PM, in the annex building to the NORTH of American Legion Post 555, located at 14582 Beach Blvd., Midway City. You must bring your certificate of completion of the online course,
the Signed Release of Liability form, and $35 cash
($25/person facility fee, plus $10 for diner we order in, sodas, water and snacks).
We are NOT set up for credit or debit cards, or checks.
Please bring cash.

You can register for an upcoming class by going to
https://register-ed.com/programs/california
You must register on the Register-Ed.com website in order to have your
Hunter Safety card number automatically generated.
For any questions use the following link
New students always ask - Where can we hunt?
New students always ask: Where can we hunt? We hope to present the students with information about where to get hunting information. We also want, if possible, to provide a list of Registered Hunting Guides that has been compiled from the California Department of Fish and Wildlife list maintained on their website. We will try to present some of our experiences with the guides we have used in the past and what our results were when possible. We encourage the other hunter safety instructors to post their experiences on the blog so we can update the student section of the website.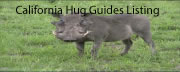 Click on the picture to go to listing of the California Fish and Wildlife licensed hog hunting guides. We will be updating this as we get more complete info such as emails and websites for the guides. Please e-mail us your thoughts on any guides you have used in the past. If you have any of the information not listed on the guides please e-mail and we will add it to our list.
Selected Instructional Videos from HE Tools
We will, as time permits, assemble web presentations of the various videos that can be used by the students and instructors to demonstrate proper procedures, such as crossing obstacles and loading and unloading firearms. There are several flash presentations that we have abstracted from the HE Tools program that we feel will be of some benefit to the instructors and the students. We will also, as time permits, construct some presentations from the various web resources that can be used by the instructors and the students.
Below is a navigation bar that will take you to the resource pages on this site for the items noted in the boxes below. There also will be navigation links in the accordion boxes to the right for the blog, instructional videos and other hunter information.
We teach mostly the 4 hour follow up class for the internet hunter's safety classes for the California Department of Fish and Wildlife. You can see information regarding the classes at Department of Fish and Wildlife.
Any class we teach requires a minimum of three students in order for us to hold the class, unless we get permission from the Department of Fish and Wildlife coordinator for our area.
We have put the site together to provide information on the classes as well as provide an information site for the instructors.
Contact Information for Pat and Henry for further class information or questions.
Patrick Ryan - Phone: 714-373-3688 - Address: 5500 Bolsa Avenue, Suite 125, Huntington Beach, CA 92649
Henry Karwan - Phone: 714-775-0331
In a continued effort to reduce firearm accidents, the State of California requires all first time resident hunters, regardless of age, to complete hunter education training or pass a comprehensive equivalence test before purchasing a hunting license.
The California Department of Fish and Wildlife conducts training throughout the state. Each year approximately 30,000 students complete the state's ten-hour minimum hunter education course. Statistics show hunter education training is a success.
Hunting accidents of all types have declined substantially since the start of the program. The California hunter safety program began on January 1, 1954 with the passage of the Davis-Abs-Hire Hunter Safety Training Law. The initial law required all junior hunters to take a hunter safety class prior to obtaining their first hunting license.
The online course requires additional activities to secure your hunting license such as unloading and loading a firearm in front of an certified instructor and displaying good gun handling techniques when encountering and crossing obstacles in the outdoors. Some examples would be crossing a fence or river and climbing a rock wall. The on-line course in itself will not get you a valid hunter education certificate. Once you have completed one of the above on-line courses, you will still need to attend a 4 hour follow-up home study/on-line class with a certified hunter education instructor. Access is permitted to the follow-up classes only after the student has completed the written home study or on-line component of the class.
We are trying to accumulate students comments about the class and also observations other instructors have about their classes. Instructors can also see what is going on and post comments on the blog web page or view instructional videos they can use in their classes without having to use the HE menu . Simply go to the following pages.
I want to thank Lieutenant Mike Norris and Miss Sara Brar from the California Department of Fish and Wildlife for their help in our transition from teaching out at Mike Raahauges' shooting range in Corona, California to teaching in the Huntington Beach, Westminster area.
We have secured a location that can accommodate larger groups of students. ( Comment posted on January 18th of 2014 by Patrick Ryan) We have been granted permission to hold our class at the American Legion Hall on Beach Blvd. in Midway City across the street from the Field and Times Gun Store.
American Legion Post 555 - 14582 Beach Blvd., Midway City, CA 92655 Phone: 714.893.9525
American Legion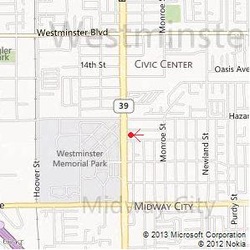 We would also like to thank the Stockade gun store, located at 8061 Westminster Blvd., Westminster; Bolsa Gunsmithing, located at 7404 Bolsa Ave., Westminster; and the Field Time Gun store, located at 14542 Beach Blvd., Westminster for their promotional assistance.